We are creating fandom nails for this week's Twinsie Tuesday! If you're unfamiliar, "fandom" refers to

a group of people who are passionate about a particular movie, TV show, book, etc.
The first thing that came to mind for me was to do something comic book-related. I love reading comics and follow a ton of different series and characters. I'm generally more of a Marvel gal (X-Men was one of my gateway drugs into comicdom) but I also read quite a bit of DC.
One of my favorite recent series was Brian Azzarello and Cliff Chiang's run on
Wonder Woman
. I was a huge Greek mythology nerd as a kid, so I liked that they put the Greek pantheon front and center in this version of Wonder Woman's world. But what I
really
loved is their multi-faceted take on Wonder Woman as a character. She's first and foremost a badass--as Wonder Woman should be--but aside from her physical strength and battle prowess she's also smart, witty, courageous and kind. Azzarello manages to contemporize her while still staying true to the core values and traits she's embodied since all the way back in 1941, when psychologist William Moulton Marston invented her as, in his words, "psychological propaganda for the new type of woman who should, I believe, rule the world." You don't need to be super familiar with Wonder Woman's history to read this series. All you need is a love of epic adventure and sistas doin' it for themselves.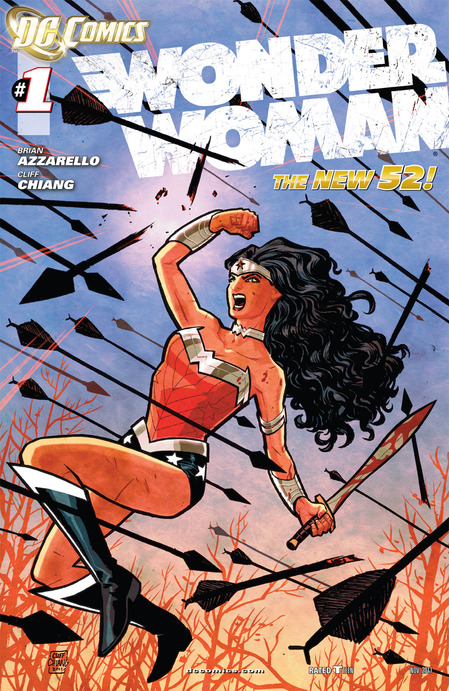 Picking a polish to represent this fandom was easy: CrowsToes Wonder Woman! This glitterbomb features all of Wonder Woman's signature colors: gold, blue and red.
I originally wanted to wear Wonder Woman alone, but the individual shapes and colors got lost in the jumble, so I decided to layer it instead. I used Essie Good As Gold as my base here.
Hope you enjoyed my fandom nails! Be sure to show my Twinsies some love today too!