I'll tell you upfront that this is probably going to be one of the most random manicures I've ever done here on Nailed. That's because my boyfriend and I tend to feed each other's weird/trashy/dorky hobbies and perhaps the best example of that, dear readers, is our shared love of professional wrestling. I know, I know, it's really stupid and basically a soap opera, but I have fond memories of watching it with my dad growing up (his favorite wrestler was Stone Cold Steve Austin) and I can't help but love the shameless spectacle and over-the-top theatricality of it all. Just because it's not real doesn't mean it's not entertaining!
So when I told my boyfriend that this week's TT theme gave him free license to suggest whatever he wanted for my nails, the answer was pretty immediate: "Well, I'm going to have to come up with the right wrestler." I will give him credit in that he didn't just pick a wrestler at random or go with who he likes the most, but instead took some time to think about which wrestler's outfits and gimmicks might work well with nail art. He wound up choosing two of the most visually distinctive wrestlers of the WWE: the tag team of Goldust and Stardust.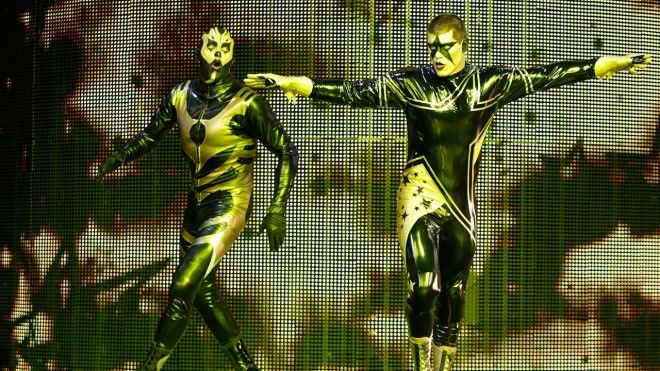 There are lots of directions you could take this in--I mean, look at these guys--but I think the main reason my boyfriend chose Goldust and Stardust is because he wanted to see me attempt to incorporate Stardust's gloves into my nail art design. The gloves have an interlocking design that forms a star when Stardust puts his hands together, like so: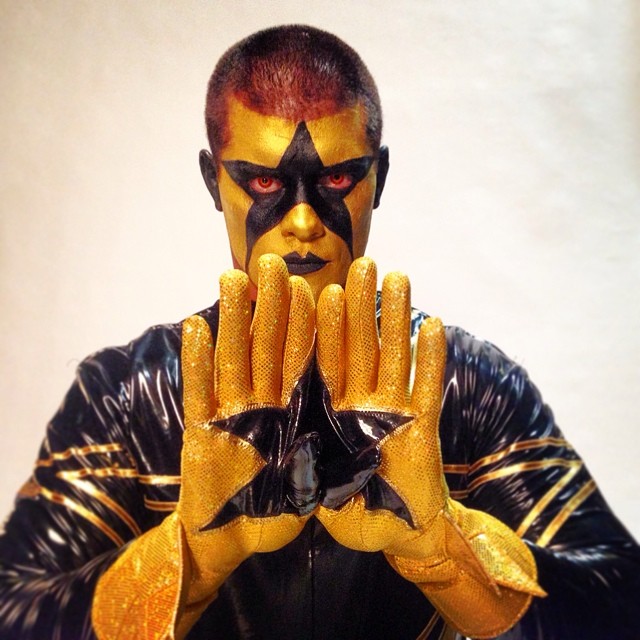 Naturally, this mani had to have gold and black as its primary colors, so I started with a base of OPI Rollin' In Cashmere, a yellow gold, and topped it off with OPI Comet In The Sky to bring in some black, plus its iridescent glitters add some sparkle to play off Gold and Stardust's whole cosmic vibe . Then I freehanded the interlocking star design onto my thumbs using Rimmel Black Satin.
It was super weird trying to figure out how to photograph this on my own, so hopefully you get the idea of the general effect...
So yep, wrestling nails. I gotta admit, it was a fun theme to play around with and I was surprised by just how many potential manicure ideas started to pop into my head once my boyfriend told me his selection. I can't wait to see what everyone else's significant others dreamed up for them this week. I think this is gonna be such a fun theme!
​