As you may have seen on my blog or my Instagram, this week's Twinsie Tuesday had us turning to our readers for help coming up with our manis. Each Twinsie asked their followers to come up with suggestions for manicures they would like to see us try! It was super hard to pick, because I was sent some great ideas and I wish I could have found a way to incorporate them all into this mani (cheesy but true)!
In the end, I went with a suggestion I got on Instagram from @jennas_paws: a dry brush mani. I actually did a dry brush mani for
a previous TT challenge
and I really enjoyed playing with that technique, so I jumped at the chance to do it again! But I figured, why stop there? I was sure I could find another follower's idea to throw into the mix!
So follower and fellow Twinsie
Amanda
(I'm pretty sure she was the first person to follow me on Instagram, so I'm totally counting her!) also submitted the idea of creating "a mani that Oscar the Grouch's girlfriend would wear." How could I resist such a fun prompt? Also, I spent part of Memorial Day weekend reading while lounging outside on a Sesame Street beach towel--I am only two years older than this towel, true story--so that suggestion seemed weirdly on point to me, hahaha.
Now, in my mind, the grunge-y, distressed look of a dry brush mani fits perfectly with Oscar the Grouch--I mean, he lives in a trash can, after all! I tried to pick appropriate colors: silver for his trash can, black and green for Oscar himself, then bits of pink to feminize things a touch and bring the girlfriend aspect into play.
Black: Rimmel Black Satin
Silver: Sally Hansen Celeb City
Green: China Glaze Gaga For Green
Pink: OPI Hey Baby
When I finished this mani, my first thought was, "Uh...that doesn't look very pretty." I was going to re-do it, but then I thought, Oscar the Grouch's girlfriend
wouldn't
wear something pretty. She'd wear something that looked kinda rough and icky, because that's how she rolls.
Out of curiosity, I looked up if the character of Oscar's girlfriend actually exists, and she does! Meet Grundgetta: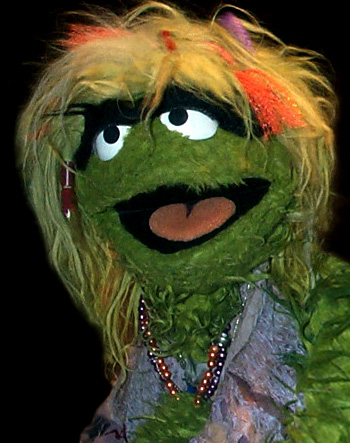 Gotta love that unibrow! So yep, I think Grundgetta would totally rock the dirty-looking mani I created. ;)

Thank you to @jennas_paws and @amandalandish for their submissions this week! And check out what my Twinsies' followers cooked up for them to try too!